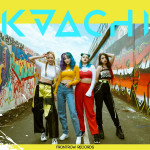 Your Turn - Single
KAACHI
About
"KAACHI, which translates to 'Value' and 'Together' in Korean, is the world's first K-pop girl group to debut in the UK!"

KAACHI, who is based in London, is a K-pop girl group consisting of Nicole, Chunseo, Dani and Coco! Formed by Frontrow Records launched in 2020, KAACHI is set to release their debut single 'Your Turn' which shares a story of heartbreak and the healing, everlasting power of friendship.
Their single 'Your Turn' fuses elements of pop, hip-hop and K-pop to create KAACHI's overall sound, girl-power! The single 'Your Turn' was produced by Monica Hyerim Lee, Daniel Leary and Jungleboi; and mastered by Jamie Snell who has worked with Dua Lipa and Black Pink.
KAACHI aims to bring London and Seoul together, adding value and positivity to the world.
Get
3 months free
of Apple Music
Sponsored